Ethereum CEO Lists Subsequent Upgrades to Come After the Merge
[ad_1]

Ethereum CEO Vitalik Buterin sparked optimism in many ETH enthusiasts after revealing the next steps in the grand plan for the network at the recently concluded annual Ethereum Community Conference (EthCC) in Paris.
All the hype on the network upgrade has been focused on the Merge, which is slated to go live on September 19, ignoring several other important upgrades to follow after the Merge.
The Merge will implement the complete switch for Ethereum, making it a Proof-of-Stake (PoS) network, ending the Proof-of-Work (PoW) regime.
At the Paris event, Buterin reminded the community of the subsequent upgrades to be implemented after the Merge. These upgrades include the Surge, Verge, Purge, and Splurge in that order. The Ethereum co-founder boasted that the network would have the capacity to process 100,000 transactions per second by the end of the upgrades.
Giving a breakdown of the upgrades, industry analyst Miles Deutscher explained that the Surge, which he noted should go live in 2023, will usher in scaling for the network through the introduction of sharding or side-chains.
Deutscher noted that the Verge introduced a system called 'Verkle Trees,' a "powerful upgrade to Merkle proofs that allow for much smaller proof sizes."
After that, the Purge should go live. This upgrade would eliminate redundant historical data to fine-tune network storage and lower congestion.
Finally, the Splurge comes with several smaller upgrades and fine-tuning to secure smooth network operation after the previous upgrades.
Key Ethereum Levels to Watch — July 22
Ethereum maintained a clear attachment to my short-term trendline over the week, with the blockchain giant cryptocurrency peaking at $1,646, an 11-day peak.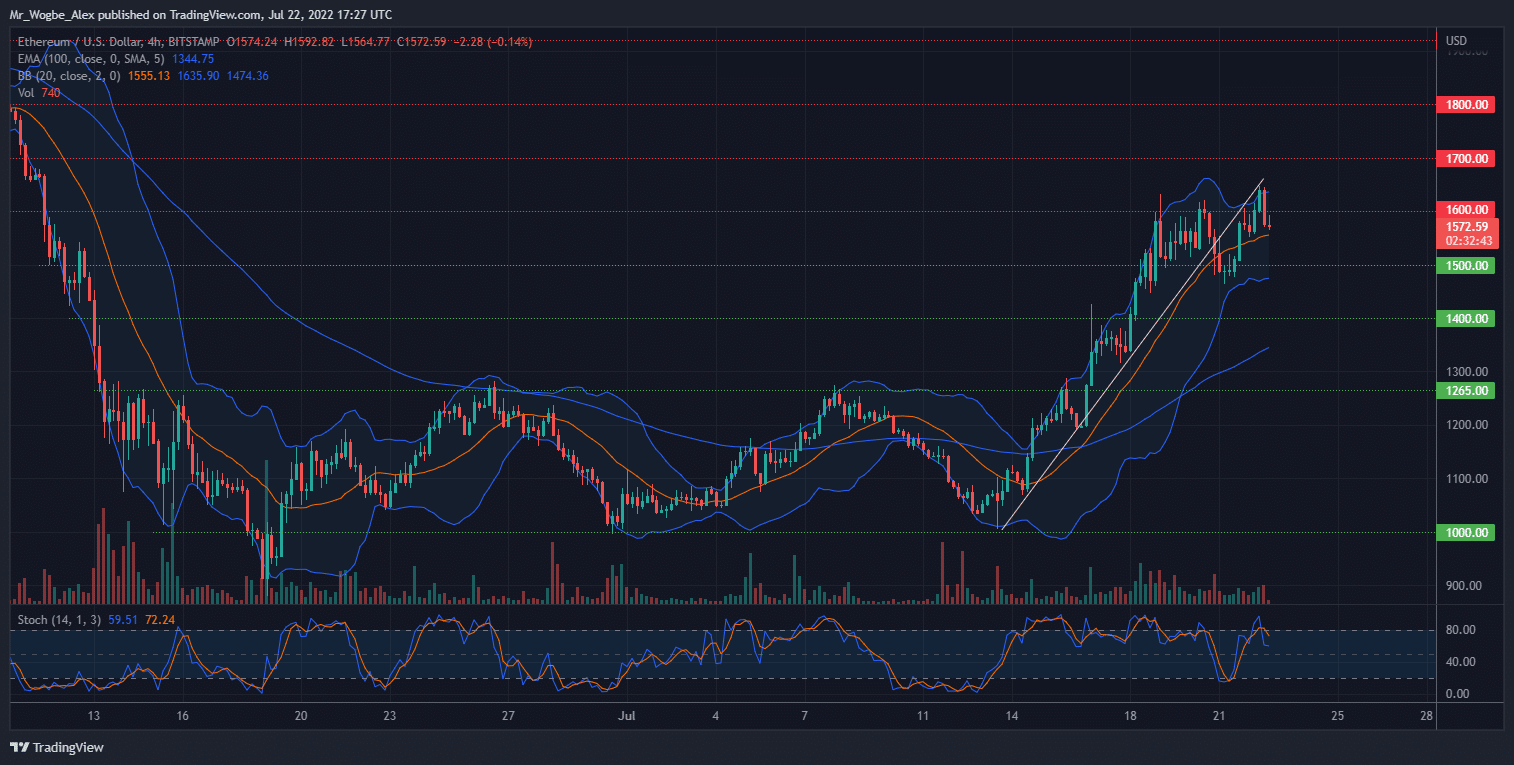 However, the ETH price has fallen below the trendline and has failed to return above the mark after today's attempt. The price now flirts with the midpoint of the Bollinger band, threatening a full reversal to the bottom of the band at around $1,500. Maintaining its position above the band's mid-point over the weekend could help the cryptocurrency begin the coming week on a bullish foot.
Meanwhile, my resistance levels are $1,600, $1,700, and $1,800, and my support levels are $1,500, $1,400, and $1,265.
Total Market Capitalization: $1.04 trillion
Ethereum Market Capitalization: $190.4 billion
Ethereum Dominance: 18.2%
Market Rank: #2
Share with other traders!
[ad_2]

Source link